Hello Everyone!
Today I have a holographic polish for you. I was so thrilled to hear that a company was releasing linear holo polishes. This finish might be my favorite- it's tough to choose!
Layla Ocean Rush is a medium dusty blue holographic polish. First of all I love this color. Those of you that read this blog frequently will know I'm a big sucker for any blue, green, teal, or purple polish. Add some holo to one of those colors and, oh baby, I am hooked!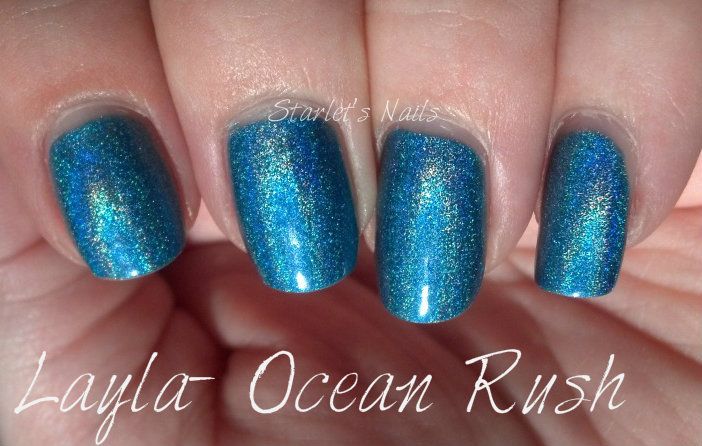 Holos are always my "I need something to cheer me up" polishes. How can you frown when you look at your hands and see 10 rainbows? I love how holo this collection is. They don't need blindingly direct sunlight to sparkle. I've had this polish on for about 4 days now. In the polish blogging world, that's an eternity. I can't help but stare at it and move my hand in the light while watching the rainbows.
Holos are known to be chippy, but there are ways around that. What's been working for me is one coat CND stickey as a base, 2 coats of polish, one coat of China Glaze Fast Forward Topcoat, one more coat of polish and one more coat of topcoat. The holo will disappear at first, but don't worry, it comes back when the topcoat dries. I've cleaned my entire house, done dishes, done laundry, and even went swimming a few times with this mani. I'm only able to get so much wear from the way I layer the polish. Another quick tip- holos are known for dragging and bald spots. The way I avoid this is to wait for each coat to dry completely, which doesn't take long because holos always dry quick.