Hello Everyone!
Two quick tings before we get to the NOTD:
1. I'm trying to put myself on a blogging schedule so I can post more regularly. Right now I'm thinking of posts on Saturday, Monday and Thursday with posts on other days as often as I can. Life is busy right now so I think having a day I'm "SUPPOSED" to have a post will help me.
2. If you follow me on twitter you'll know about two weeks ago I had a very bad break on my swatching hand. I haven't fully recovered from it (physically or emotionally) so you'll see in the pictures below that the nail on my middle finger looks a bit sad. I'm working on growing it back and I feel it's growing quite nicely.
On the the polish!
Today's NOTD is Is Essie Marshmallow topped with Revlon Whimsical. Essie Marshmallow is still a little tricky (application wise) for me. It tends to be streaky on me but it IS a jelly and a white (two things I normally have application issues with). I find that three coats of Marshmallow is the magic number for me.
Whimsical is, I believe, intended to be a dupe for Lippmann's Glitter In The Air (GITA for short), but I do not own GITA to say for sure. I CAN say that Revlon has been doing one heck of a job duping (or at least getting really close) to a lot of higher end polishes that have come out recently. Whimsical starts off with a very sheer (and i mean VERY sheer) baby blue jelly base. There's a lot of glitter floating around in this polish. I see very tiny micro glitter that flashes from blue to blurple to green blue. I also see some small silver hexagon glitter and of course the glitter that is most prominent is the light blue and soft pink medium sized hexagon glitter. I had no application issues with Whimsical, but I will say the large glitter is really sparse so it can be a bit frustrating when trying to get an even looking coat. That's just the nature of this polish. I cannot comment on removal of this polish as I'm still wearing it. I do not foresee any issues with removal as the glitter is so sparse.
Pictures shown are three coats of Essie Marshmallow topped with two coats (I told you that jelly base is super sheer) of Revlon Whimsical.Base Coat- Qtica Natural Nail Growth Stimulator. Top Coat- China Glaze Fast Forward Top Coat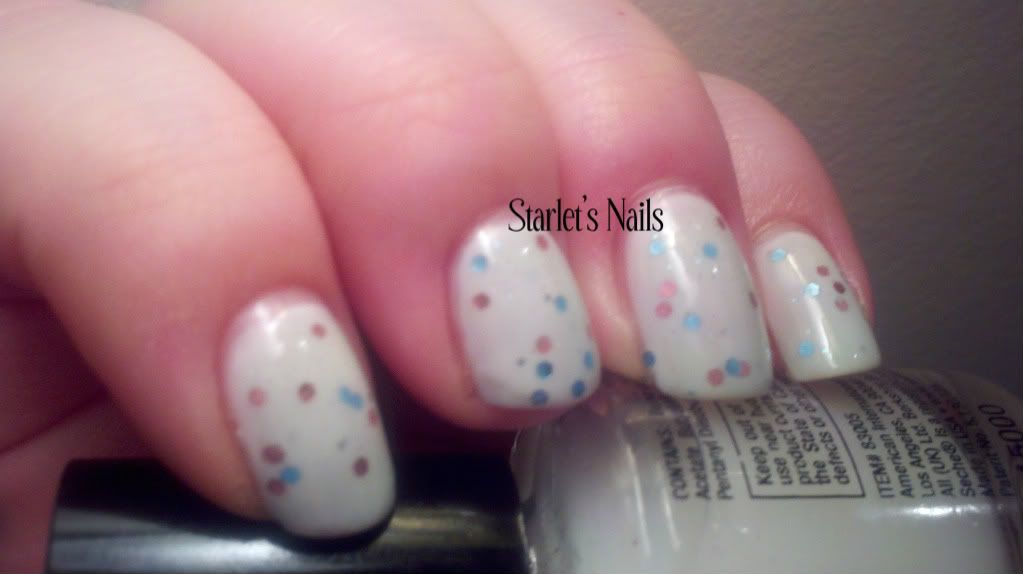 I really can't wait to try Whimsical over other pastel polishes. I think it will be a great polish for spring, and I am totally ready for spring!