Hello everyone!
Today I have a wear test for you. About a month ago I met some really awesome nail obsessed ladies. we met for lunch & had a HUGE polish swap. My dear friend Evelyn gave me these Sally Hansen Salon Effects. I've been wanting to try them because my husband and I are going on vacation for two weeks and I don't want to have to do my nails everyday while on vacation. I immediately thought of these polish strips. Luckily, I received some in a swap and I got to try them out.
I got the little ghost strips. I think they're adorable. One person commented that they look like the pacman ghosts.
Oh by the way- this is Joey. He has decided to jump on my lap while I sit here and type this Blog post. I guess he wants to say hi to everyone.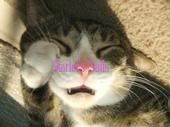 So, as I type AROUND the cat.... where was I? Oh, these polish strips were Limited Edition for Halloween. You can find them anywhere Sally Hansen is sold. they retail for around $7-$9 I did not find them difficult to apply, although I did have to cut a few strips to get a perfect fit. The most difficult thing about applying the strips is getting the initial placement right and lining them up straight on your nail. I did not use a base coat, but I did add a coat (or two) of Barielle Ultra Speed Dry Manicure Extender. Here is a pic of the strips immediately after they'd been applied.
You can see i didn't have a perfect application. There are a few wrinkles and I stretched the pinky one too far. I'll chalk that up to being a first time user. I will say that after I added the top coat those edges smoothed down a little for me and I wasn't as worried about them peeling up.
And here they are on day five. Major tipwear(for me), and they're black so it's even more noticeable.
I'm generally a daily polish changer so it was like some kind of cruel & unusual punishment for me to keep these on my nails as long as I did. They lasted five days on me before the tipwear was driving me crazy and I had to remove them. I type a lot at my job so I think that was a big part of the tipwear. I also did dishes and baked some delicious goodies for my husband's work while wearing the strips. I feel like I put them through a fair test. I would purchase these in another design. There are a few in the holiday line I'm DYING to wear(
Click here to see them
). I think the second time around I'll have better results. There is a little bit of a learning curve with these strips, but all in all I think they're a great option for someone that doesn't want to worry about doing a manicure for a week (or longer).